Q&A with ... Basketball Hall of Famer Robert Parish
Matt Crossman
Posted: April 2, 2009
Robert Parish played more games -- 1,611 to be exact -- than anybody in NBA history. A big reason is that he took care of himself by eating right and staying in shape. He is a spokesman now for Get Fit By Finals, a joint venture between the NBA and the Body by Milk campaign to encourage proper nutrition and fitness. After an appearance at a Charlotte area high school promoting the program, Parish talked with Sporting News' Matt Crossman about Larry Bird vs. Michael Jordan, Lakers vs. Celtics, and which point guard he'd like to play with today.
How important was nutrition in your longevity?
MC:
RP: It was very important. I never tore anything, never had a broken bone. That's a testament right there for what nutrition does.
MC: That's unbelievable.
RP: I was very lucky. But nutrition played a major part. It's very important. Especially if you have a sweet tooth. Sugar kills conditioning and your stamina because it's quick energy. You burn it up real fast. It's very important to stay away from soda, ice cream, candy bars, as much as you can.
MC: It sounds like you were fortunate that you never had those habits because of your parents.
RP: My parents didn't believe in a lot of fast foods, sugary drinks. We didn't have soda, we didn't drink a lot of Kool-Aid. We drank a lot of water. My mom was a stay at-home mom, so she cooked three meals a day. We always ate right. I didn't have a burger or a slice of pizza until my freshman year of college.
MC: You won championships with Larry Bird and Michael Jordan. How do you compare and contrast the two?
RP: The comparison would be competitiveness. Both of them are very driven. Both of them are very passionate.
What I liked about Larry, more so than Michael -- Michael was a more rah-rah, emotional leader. Larry led more by his actions on the court. He wasn't the type to talk a lot.
Michael was the type to give a speech, motivate a guy, psyche him up, get him ready to play. Larry wouldn't say much. For me, it's more important to lead by example. After a while, your speech falls on deaf ears.
MC: You were quite a veteran by the time you played with Jordan. I doubt you needed to be motivated.
RP: For a young guy, by midseason, you've heard that speech. How many ways can you change it up, sugarcoat it, to make it sound different? I always felt if you were an action-type leader on the court, it was better than a verbal one, where you're always trying to give a speech, be emotional, trying to get pump guys up.
After a while, guys tone you out. If a coach is a yeller or screamer, after a while, players don't hear his voice.
MC: Which big man has impressed you the most in the NCAA Tournament this year?
RP: I like the big fella at UNC, (Tyler) Hansbrough. And I like (Blake) Griffin at Oklahoma.
What I like about those two, they have, in basketball terms, high-rev engines. They don't stop. They keep going. They kind of remind me of Moses Malone. Relentless play.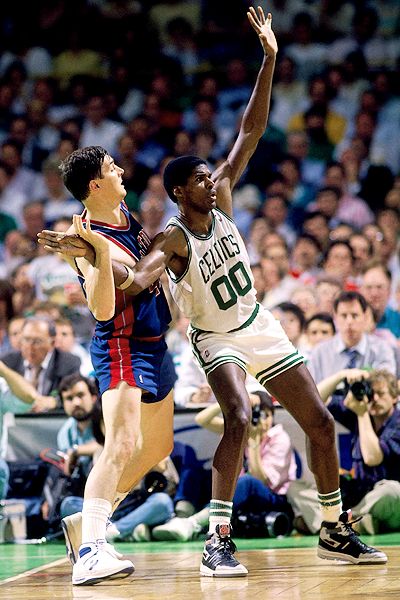 MC: If there was a point guard who you could take from today's game to feed the ball to you when you played, who would it be?
RP: Steve Nash.
MC: How come?
RP: Vision. He's got great vision. He reminds me of one of the best point guards I played with, (Nate) Tiny Archibald. Great vision. He could see everything. That's what I love about Steve Nash.
MC: What do you recall of the great battles the Celtics had with the Pistons in the 1980s?
RP: Intense. They were an up-and-coming team. We were current, the big dog. I like the fact they were very competitive. They believed in themselves. They believed it was just a matter of time before they took us. You've got to give a lot of credit to their play.
A lot of people don't like (Bill) Laimbeer. But I have to say he was one of the main reasons they were as good as they were. He did all the dirty stuff -- all the rebounding, defensive work. I always felt like he was the catalyst. When he was playing well, they had an excellent chance of winning.
MC: What about with the Lakers?
RP: That's epic. That goes back to (Bill) Russell and (Wilt) Chamberlain. The rivalry really took off and started to blossom with those two, and of course Larry (Bird) and Magic (Johnson).
MC: Those battles between Magic Johnson and Larry Bird--those are two of the best players ever, battling on the biggest stage. Were you aware at the time of the significance of that as it was happening?
RP: I don't think the significance of their individual battles was that important. But from a team concept, oh, yeah. The Lakers and Celtics have won the most championships, collectively. I feel like those two teams did a lot for the league, in terms of popularity, because of the way Magic played and Larry played, embraced the team concept. I think that's one of the reasons the game became so popular.
http://www.sportingnews.com/yourturn/viewtopic.php?t=534174